In today's competitive landscape, it's critical for insurers to keep loss costs under control—not only through fast, fair, and consistent claims resolution but also by helping to reduce the number of claims. Educating policyholders to recognize hazards, improve safety, and prevent loss is vital for effective risk management and loss control. For example, educated workers' compensation policyholders that desire to minimize risk may, in turn, instruct employees to follow applicable safety procedures, leading to fewer claims. Similarly, commercial property policyholders need to know about proper material storage, sprinkler testing and maintenance, and scores of other precautions they can take to mitigate risk.
Insurer-supplied checklists and safety information can help policyholders implement safety and loss control plans that reduce risk to businesses from fire, weather-related emergencies, robberies, vehicle crashes, cargo theft, and other hazards. For example, in the realm of fire safety, if a policyholder is a restaurant owner, are cooking appliances such as ranges, deep fryers, and steamers installed in compliance with NFPA 96, Standard for Ventilation Control and Fire Protection of Commercial Cooking Operations, published by the National Fire Protection Association? By alerting policyholders to requirements of that standard, insurers can help prevent costly kitchen fires.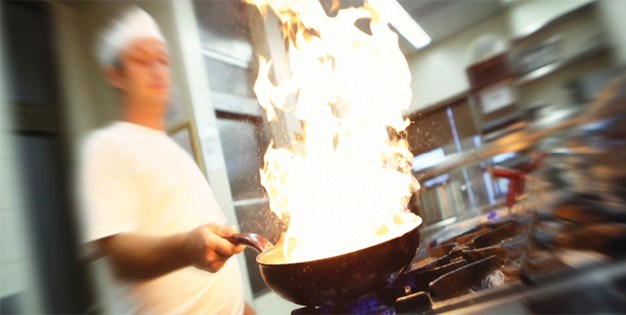 For best risk management results, insurers should communicate directly with those decision makers in a policyholder's business who are invested in reducing risk, budgeting for equipment and educating employees, and avoiding losses. Leading industry experts should supply educational content that's current and provides value. In addition, materials should be concise and easy to understand, relevant to a wide array of policyholders, and address the latest loss reduction concepts and regulations related to their lines of business.
All that information can be communicated directly to policyholders through client handouts. Useful, well-presented information can result in a cross-departmental campaign, benefiting an insurer's loss control, customer retention, and marketing areas. That approach has been used extensively on the personal auto side of the industry but hasn't been embraced as much by commercial lines. A typical auto insurer can communicate directly to policyholders on a variety of useful topics, such as drunk driving, driving distractions and cell phone use, road rage, and seasonal driving challenges. A number of commercial insurers, however, do employ this approach on an even more varied array of topics, including information related to commercial vehicles, construction management, crime prevention, fire protection, inland marine, liability, natural hazards, occupational safety, and product safety.
Our experience at Verisk - insurance solutions' Engineering and Safety Service (E&S™) indicates a growing interest among commercial lines insurers to use client handouts in their operations. To meet that need, we offer a wide variety. In fact, we recently surpassed 400 downloadable handouts in our database.
Some of our client handout topics include:
Cold Weather Safety for Construction Workers
Security Action Plan for Hotels and Motels
Security for Medical Facilities
An Inspection Program for Fire Doors
Key Factors in Motor Vehicle Crashes
Recommendations for a Respirator Protection Program
Food Safety at Retail Bakeries
Action Plan for OSHA Inspections
The client handouts provide policyholders with high-level instructional information, updated within the past five years. They raise awareness and allow insurers to help clients adopt best practices.
In addition, insurers can engage policyholders on their readiness to face various risks. Does the policyholder have an action plan and checklists that help with risk reduction? For example, if the policyholder is a place of worship, is it at least 30 feet from buildings and other exposures, such as automobiles, fuel tanks, outside storage areas, and high grass or wooded areas? If the policyholder is a businessowner, does it have an emergency action plan (EAP) in place for when a winter storm hits? Does it have a list of all employees, key customers, and clients along with their phone numbers? Does it have photographs of the business, both inside and out?
These valuable E&S client handouts can help insurers educate policyholders on identifying and mitigating hazards in their operations and help improve retention and loss control. And the handouts can be customized with the insurer's own branding. For more information on available client handouts and details about Engineering and Safety Service, please go to our website.