Do you know the reputation of the devices conducting transactions with your business?
By
John Cantwell
| March 24, 2015
Consumers are increasingly using more types of mobile and other Internet-enabled devices to shop for insurance. But the ease of doing business online creates increased risk for fraud. Cybercrime rings are highly organized and sophisticated. Now, new technology that takes advantage of the power of device reputation can help expose insurance fraud and save insurers millions of dollars.
The technology examines the hardware a consumer used to conduct a transaction through the web — such as obtaining a quote or claim report — and the online history of that particular device. It reveals whether a particular device is connected to a number of accounts and other devices with known histories of fraud.
Below is an illustration of a fraud ring from the perspective of the device used to purchase the original auto policy. Using technology from iovation, a provider of device-based solutions for fraud prevention and authentication, the original device was tied to the nine IP addresses shown. Each of the nine IP addresses was, in turn, associated with one or more policies: two for London Sky Broadband, three for one of the U.K. IPs, seven for Manchester Sky Broadband, and one for the other IPs.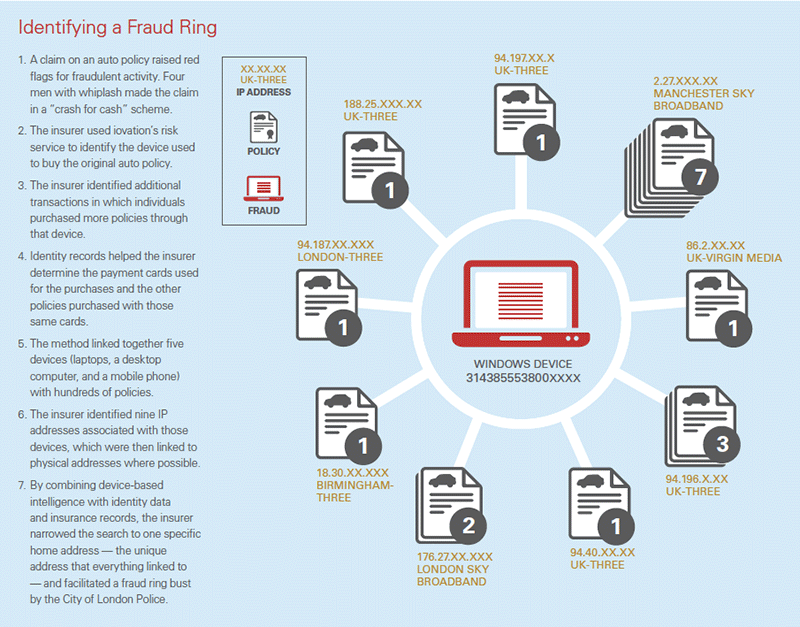 To learn more about how device-based intelligence can detect and shut down fraudsters on their websites and mobile apps, read "How Device-Based Intelligence Can Expose Insurance Fraud" in the latest edition of Visualize, our quarterly publication featuring commentary and insights devoted to auto and property underwriting.
---