The 2016 hurricane season ended November 30 with two PCS® catastrophe designations from Atlantic Basin hurricanes that made landfall in the United States. We discussed Hurricanes Hermine and Matthew in our previous post.
As winter approaches, we note that the month of December has brought 11 PCS-designated catastrophes since 2006. Those events generated approximately 490,000 claims and cost insurers nearly $2.4 billion. In 2014, we declared the greatest number of December catastrophes since 2002 with three wind and thunderstorm events resulting in 44,000 claims and approximately $266 million in losses. Just last year, in 2015, we saw the largest December insured losses of the last ten years. Two wind and thunderstorm events resulted in 94,000 claims totaling $854 million.
December Historical Data 2006–2015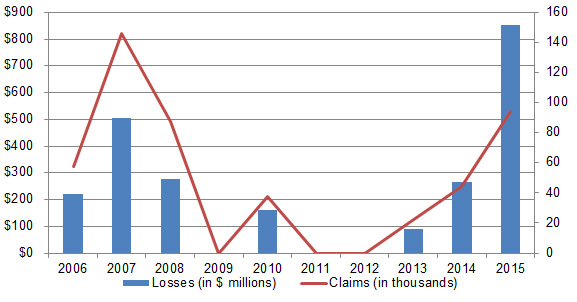 To get access to vital PCS information on the go, download the new PCS-Mobile app for iPhone (link to App Store) and Android (link to Google Play).
The PCS Catastrophe Previews are proprietary and copyrighted documents that may not be copied or redistributed without prior written consent. Subscribers to PCS are permitted to copy the bulletins for their internal use only. The catastrophe loss estimates reported in the PCS Catastrophe Previews are proprietary intellectual property. They may not be used by anyone for any investment or insurance purposes without an appropriate license from ISO.
PCS is recognized around the world as the property/casualty insurance industry's authority on catastrophic events in the United States. In addition to providing a wide range of services to subscribers in the United States, PCS maintains contact with industry representatives in many foreign cities and Bermuda.
The PCS name has become synonymous with catastrophe reporting and assignment of catastrophe identification numbers. PCS information is used primarily as a check on internal company damage estimates in setting loss reserves and as a guide to deployment of field adjusters.
For more information available from PCS, please contact Ted Gregory at 201-469-3144 or email tgregory@verisk.com.