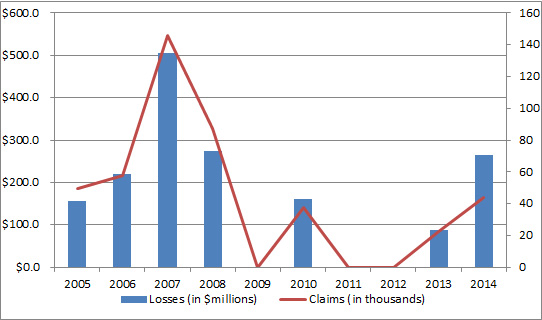 The 2015 hurricane season ended November 30. This has been a relatively quiet season for the Atlantic Basin, with only one catastrophe, Tropical Storm Bill, declared in June for the states of Texas and Oklahoma. The tropical storm resulted in an insured loss of $57.7 million and generated 9,450 claims.
Looking back over the past ten years, there have been only 11 catastrophes declared by PCS in the month of December from 2005 through 2014. These events generated approximately 445,000 claims and cost insurers nearly $1.7 billion.
In the past decade, the year 2014 saw the most December catastrophes, with three wind and thunderstorm events that resulted in approximately $266 million in losses and 44,000 claims. During that same time period, 2007 saw the largest December insured losses with $505 million and 146,000 claims caused by a winter storm and a wind and thunderstorm event.
Listen to an interview with WRIN TV, in which Joe Louwagie, assistant vice president, Property Claim Services® (PCS), talks about cat frequency over severity, data housing, and more.