I recently attended the Mortgage Bankers Association's (MBA) annual Commercial Real Estate Financing (CREF) conference in sunny San Diego. The conference is the premier industry event, with more than 3,000 registered attendees gathering to hear the latest market reports and trends, speak with service vendors, and complete their commercial real estate lending deals for 2015.
Billy Beane, general manager of Major League Baseball's Oakland Athletics, was the keynote speaker. Known for his executive accomplishments and unique management philosophy, Beane became famous as the subject of Michael Lewis's best-selling book, Moneyball, and the subsequent 2011 film starring Brad Pitt as Beane.
Beane discussed how he revolutionized small-market baseball by keying on win-correlated metrics (such as on-base percentage) rather than traditional baseball statistics (home runs, stolen bases), a system known as sabermetrics. Beane was mocked for signing no-name players who lacked star quality and basing decisions on research and mathematical analysis. His players also lacked hefty paychecks, yet his teams made the playoffs every year from 2000 to 2003 and again in 2006 and 2012.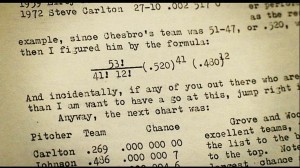 An engaging speaker, Beane breezed through the 90-minute session and could have gone on much longer. As we left the main hall, a gentleman in front of me remarked, "That's certainly interesting stuff, but I don't see how we'd use it."
Coming from a company built on big data and analytics, I was disconcerted to hear such a cavalier attitude from someone in commercial real estate. I believe commercial real estate is ripe for data integration into lending decisions, asset management, pricing, and strategy. That's not to say lenders and developers aren't using any data. Many rely on vendors who collect transactional statistics on rates, geographies, and development costs.
However, when it comes to structural resilience, there's far less use of data on natural perils, insurance-based asset valuations, and socioeconomic trends and indicators. That includes (but isn't limited to) hazard-based near- and long-term damage estimates, building code effectiveness, enhanced due diligence data collection, and occupant strength ratings. Together, those factors present a new view of lender evaluation that was inaccessible in the past because of knowledge and resource constraints.
More data, especially on potential risks, is often viewed as cumbersome, or it's highly commoditized to meet regulations rather than used as a valuable decision-making tool. Additional data is more than just a tool for evaluating risk. It's an opportunity to identify customers that will provide the best return on investment (ROI) through mitigation of unforeseen expenses, such as poor due diligence reporting and zoning conditions.
With a stronger adoption and use of risk resilience metrics, the commercial real estate industry has a better chance of identifying the "on-base percentage" that will produce a winner in its portfolio.
For more information, go to http://www.verisk.com/commercial-real-estate.html.
---