The ancient Babylonian laws known as the Code of Hammurabi, dating back to Mesopotamia in 1772 B.C., probably featured the world's first building codes. Although Ohio is a long way from Mesopotamia, that thought came to my mind as I joined about 30 of our building code Community Hazard Mitigation staff at a two-and-a-half-day summit in Columbus. We got together to assess how we're doing, where we're going as a team, and the future of our Building Code Effectiveness Grading Schedule (BCEGS®) program.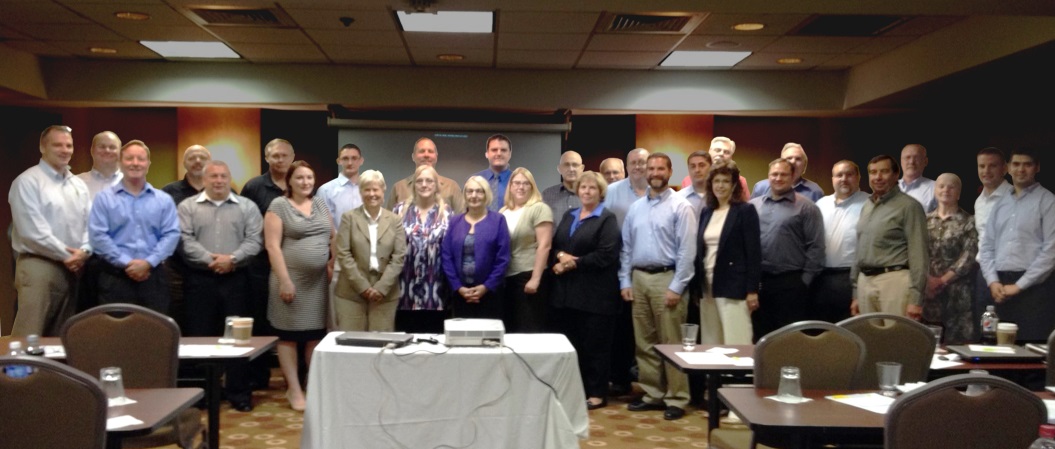 Thankfully, today's building codes are very different from the ancient Babylonian laws. The standards at that time were, let's say, minimal and enforcement beyond harsh. If you can put aside the eye-for-an-eye penalties, today's much-improved building codes do trace back to Hammurabi's belief in erecting structurally sound buildings for people and businesses.
In Ohio, we examined code trends, how we can improve BCEGS, our interactions with the local building departments we survey, and our goals for the future. We came away even more confident that BCEGS is a great program that benefits our insurer customers and building departments. We have a powerful message: Well-enforced, up-to-date building codes demonstrate better loss experience during everyday use and when catastrophes occur.
Our BCEGS team collects data and assesses how communities adopt, amend, and enforce codes. We've already worked with nearly 20,000 communities — at no cost to them — and we're ready to work with more. The number of entities relying on BCEGS increases constantly and includes insurers, commercial real estate lenders, attorneys, the Federal Emergency Management Agency (FEMA), and other government agencies.
Our impact is growing, and we take pride in that. Cy Butts, a field representative in northern Florida, said, "The breadth of our users adds a certain amount of prestige to what BCEGS accomplishes. It drives home the point that our evaluations affect programs and policies not previously imagined."
We also heard from Bob Schutz, a distinguished building code expert from Ohio. His experience is amazing: senior code positions with several municipalities, combat construction with the Army Corps of Engineers, instruction management for the International Code Council, and oversight of the creation of a new residential code for the Ohio Board of Building Standards. He's also a plumber, sheet metal worker, and brick mason. This man knows buildings. Bob was a big hit with our staff, offering an insightful, educational, and engaging presentation that challenged us to do more.
We discussed FEMA building science, revisions to our State Fact Sheets, the role of BCEGS, structural plan reviews, and more. Our goal is clear: increase our efforts to reach out to building departments and communities. Robin Gruter, a field representative in New England, felt the goal was a call to action and said, "We have to get BCEGS out there so communities realize the importance of this program."
We're working hard to demonstrate the value of BCEGS participation across the country. The chart below shows how we graded building jurisdictions in the nation, both residential and commercial. A grade of 1 represented an exemplary commitment to building code enforcement. Every building department would agree that we want to see taller bars and more departments in the better grades.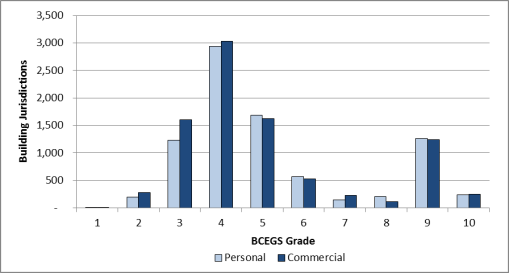 This image below is one of the most powerful I've seen: a lone survivor among rubble left in the wake of Hurricane Ike. It clearly demonstrates that building codes and better enforcement matter. What more do we need to say?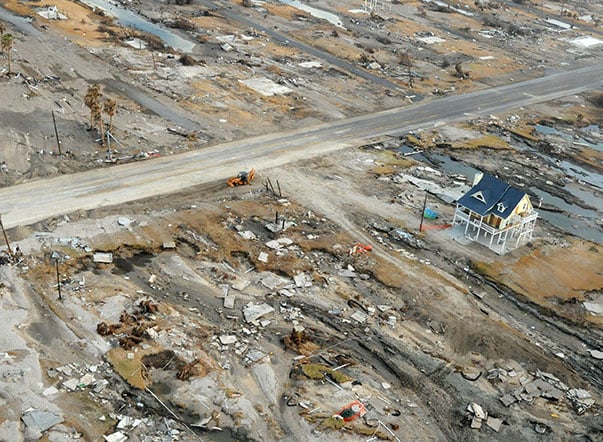 For more information on ISO Community Hazard Mitigation and how a local building department can participate in the BCEGS program, go to www.isomitigation.com.