We're down to the last four teams in this year's college basketball tournament, and it seems that using Building Code Effectiveness Grading Schedule (BCEGS®) scores isn't the best method for selecting the winners. None of our bracket picks made the Final Four. In fact, we missed the Elite 8 round, too. But when you consider that just 1.6 percent of the 11.57 million entries in the ESPN challenge correctly picked the Final Four, we don't feel too bad.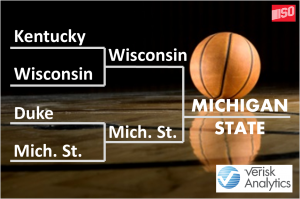 We're proud that using BCEGS scores as an indicator of team strength netted 18 winners and predicted two upsets in the first round of 64. Can BCEGS correctly pick this year's winner? When graded on building code adoption, enforcement, and administration compared with the other three schools' communities, East Lansing, Michigan, reigns above the other remaining teams. BCEGS predicts Michigan State to win it all. (Sorry Kentucky!)
The BCEGS program assesses the building codes in effect in a community and how the codes are enforced, with a special emphasis on the mitigation of losses from natural hazards. The program assigns each municipality a BCEGS grade of 1 (exemplary commitment to building code enforcement) to 10. We develop advisory rating credits for ranges of BCEGS classifications (1–3, 4–7, 8–9, 10). Insurers use the classifications, advisory credits, and related underwriting information to determine proper premiums. Learn more about the BCEGS program here.
Best of luck to all the remaining teams and unbusted brackets!