With summer well underway, beachgoers may welcome the warming Atlantic Ocean temperatures. But warm water and other factors have led researchers to update their 2017 hurricane forecasts since our June preview. One of those factors is the unusual tropical activity so far this season.
The National Hurricane Center says a named storm forms in the Atlantic Basin in June once every other year.[1] But already, we've seen Tropical Storm Arlene form in April and Tropical Storms Bret and Cindy form in June. A fourth storm, Tropical Storm Don, formed in mid-July. None of them resulted in significant industry losses.
But as we look to August, we recall that two of the costliest tropical events in the United States occurred in this month. Hurricane Andrew, a category 5 hurricane, made landfall in Florida 25 years ago in August 1992. Andrew caused a $15.5 billion loss to the insurance industry. Hurricane Katrina came ashore in the U.S. in August 2005 and resulted in $41.1 billion in insured losses.
In the last decade, the most active years for August catastrophe events were 2007, 2008, and 2013 with four catastrophe designations resulting in approximately 825,000 claims and $4.85 billion in insured losses. During this period, the largest single August event occurred in 2011, when Hurricane Irene caused more than $4.3 billion in damages from approximately 855,000 claims.
[1] http://www.nhc.noaa.gov/text/MIATWSAT.shtml
August Historical Data 2007–2016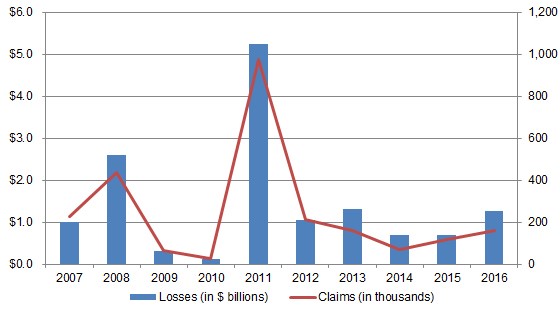 To get access to vital PCS® information on the go, download the new PCS-Mobile app for iPhone (link to App Store) and Android (link to Google Play).
---
The PCS Catastrophe Previews are proprietary and copyrighted documents that may not be copied or redistributed without prior written consent. Subscribers to PCS are permitted to copy the bulletins for their internal use only. The catastrophe loss estimates reported in the PCS Catastrophe Previews are proprietary intellectual property. They may not be used by anyone for any investment or insurance purposes without an appropriate license from ISO.
Property Claim Services® (PCS®) is recognized around the world as the property/casualty insurance industry's authority on catastrophic events in the United States. In addition to providing a wide range of services to subscribers in the United States, PCS maintains contact with industry representatives in many foreign cities and Bermuda.
The PCS name has become synonymous with catastrophe reporting and assignment of catastrophe identification numbers. PCS information is used primarily as a check on internal company damage estimates in setting loss reserves and as a guide to deployment of field adjusters.
For more information available from PCS, please contact Ted Gregory at 201-469-3144 or email tgregory@verisk.com.