Traditionally, hurricane season runs from June 1 to November 30. While forecasters have generally predicted a near-normal hurricane season for this year, there have been a small number of unusual storms thus far. Already, we've seen four recorded tropical systems in the Atlantic.
The first, Hurricane Alex, was notable because it was the earliest storm of the year since 1955. The storm took place in January and peaked as a Category 1 hurricane that caused very little damage when it made landfall in the Azores. Following Alex, Tropical Storm Bonnie formed on May 28 and made landfall on the South Carolina coast on May 29. After Bonnie, Tropical Storm Colin formed on June 5 and made landfall in Florida on June 7. The fourth, Tropical Storm Danielle, formed on June 19 and dissipated on June 21. However, none of the storms resulted in a PCS catastrophe designation.
Since 2006, Property Claim Services® (PCS®) has designated 25 events in August, of which five have been tropical events, 19 have been wind and thunderstorm events, and one was an earthquake event.
The most active years for August catastrophe events were 2007, 2008, and 2013, with four catastrophe storm designations resulting in approximately 825,000 losses and $4.85 billion in insured losses. That said, since 2006, the largest single August event occurred in 2011, when Hurricane Irene caused more than $4.3 billion in damages resulting in approximately 855,000 claims.
PCS recently released a new benchmarking study, the PCS Commercial Lines Catastrophe Claims Planning and Response Report. This report details results of a survey on how industry respondents plan for and respond to commercial lines catastrophe claims. For more information or to request the new report, please contact Ted Gregory at 201-469-3144 or tgregory@verisk.com.
August historical data 2006 - 2015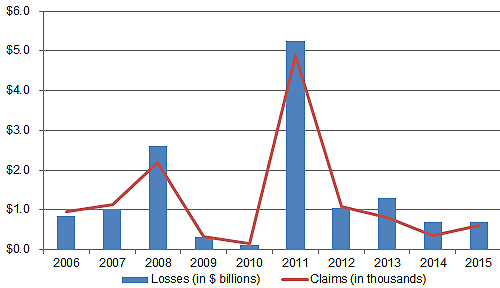 For access to vital PCS information on the go, download the new PCS-Mobile app for iPhone.