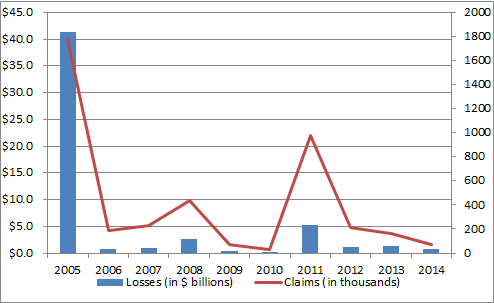 We're two months into the hurricane season, and it's been very quiet so far. If the historical trend continues, we should see minimal tropical event activity in the coming month.
In the past ten years, PCS has designated only six tropical events in August. Since 2005, the most active August for tropical event frequency has been 2008, during which PCS designated two catastrophe events, Tropical Storm Fay and Hurricane Gustav. August 2015 also marks the ten-year anniversary of the most destructive hurricane event designated by PCS, Hurricane Katrina, which caused more than $40 billion in insured losses.
Of course, tropical activity isn't the only August threat. Wind and thunderstorm events have been nearly twice as frequent as tropical events over the past ten Augusts. PCS designated 20 August wind and thunderstorm events in that period, amounting to insured losses of approximately $5.1 billion. While severity for these events has been considerably lower than hurricanes, wind- and thunderstorm-related losses have been on the rise in recent years.
Learn more about PCS FlatCat®.