April is an active month for violent tornadoes, though overall tornadic activity typically peaks in May and June. We saw more violent tornadoes—EF4 and EF5—in April than any other month from 1950 through 2013. The past decade saw an average of 267 U.S. tornadoes in April.
The April 2011 tornado outbreak is ranked as the most active tornado month on record, with 758 confirmed tornadoes (exceeding the prior record of 267 in April of 1974) and an estimated 364 fatalities. Just last year, there were 120 tornado reports recorded for April.
Hail tends to accompany tornadic activity, and this peril has been included in every Property Claim Services® (PCS®) event designated in April since 2007. In April 2016, PCS designated five catastrophes: They all involved hail and wind, and they generated more than 800,550 claims and over $5.7 billion in losses.
Since 2007, PCS has designated 41 catastrophes in the month of April, an average of just fewer than four per month. Those events resulted in close to $37.1 billion in losses in that ten-year period, averaging $3.71 billion per April.
April Historical Catastrophe Activity, 2007-2016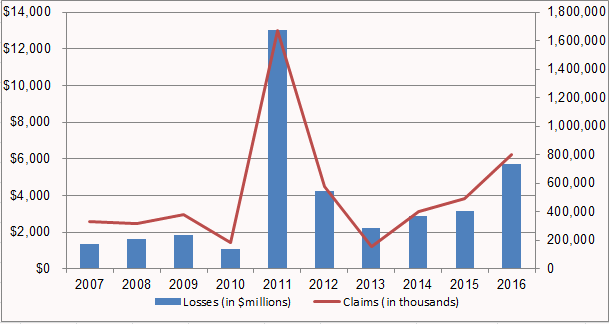 To get access to vital PCS information on the go, download the new PCS-Mobile app for iPhone (link to App Store) and Android (link to Google Play).