Engineering and Safety Service (E&S™) held our annual E&S Loss Control Executive Forum on April 6–8 in Tampa, Florida, and it was a great success. Forty senior-level loss professionals and guests from more than 30 organizations attended the event. Participants were able to learn about and discuss important issues confronting the risk control profession. That included how to address emerging loss exposures such as cyber liability and how to effectively incorporate advanced technology into risk assessment. Attendees were also able to meet the E&S team and key executives from the Verisk - insurance solutions commercial lines unit.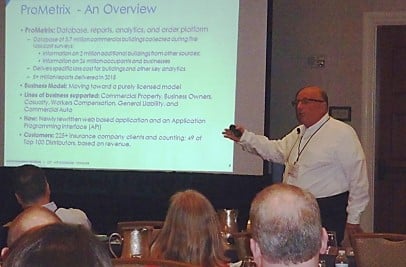 The technology sessions at the forum were especially lively. In one, Robert Kupris of Erie Insurance discussed a pilot program that the company initiated regarding wearable technologies. A small number of field staff members were provided with Google Glasses to wear during inspections. The glasses captured live video from the inspection, which office technical experts could view remotely to aid in exposure identification and assessment. The system can help improve staff performance and let supervisors conduct virtual "ride-alongs." The results of the pilot were encouraging enough for Erie to expand the program to the coming year. Mr. Kupris brought along a pair of Google Glasses, and attendees tried them on during breaks to become more familiar with the technology.
In another session, Dominick Mongarella of Secura spoke about his company's experience selecting drones for its risk control department. Secura is considering using drones to investigate roofs and other elevated structures so that risk control professionals can avoid the risk of fall hazards. He discussed obtaining the necessary exemptions from the Federal Aviation Administration (FAA) to test the drones for this use. Secura is also looking into drone capability to efficiently view and document large properties and properties with multiple structures. While the focus of the current project was on aerial photos, advances in sensor technology—such as infrared (IR) sensors—could expand drone use for other purposes, including thermography. Attendees debated the benefit of drones over other remote imaging technologies, such as satellite imagery, and the expense of using drones.
Mr. Mongarella confessed that Secura damaged a drone during its evaluations; ironically, it wasn't how the attendees expected. The drone was not damaged in a crash but in transit between test locations while in its travel case.
Next year's forum is tentatively scheduled for April 19–21, 2017. If you'd like us to add you to the mailing list for the next forum, please email your contact information to ESForum@verisk.com. For more information on E&S, just visit our website.