When wildfires occur in populated areas, AER and Verisk Insurance Solutions – Underwriting provide claims and underwriting professionals with tools to help victims get back on their feet quickly.
When a wildfire blazes, insurers immediately deploy catastrophe response teams to offer help and begin the recovery process for their policyholders. Insurers also assess the effect on policies in force. The same wildfire analysis data that claims professionals use also helps underwriters assess regions for underwriting moratoriums. Catastrophe, claims, and underwriting teams integrate the AER wildfire analysis into their workflow, providing consistent data across the enterprise.
Two Verisk Analytics units, Atmospheric and Environmental Research (AER) and Verisk Insurance Solutions – Underwriting, deliver tools that insurers use to provide immediate service and to apply lessons learned to reducing property risk from future wildfires.
Claims Responders Assist Policyholders through AER Respond Service for Wildfire
By harnessing satellite-based damage analysis and high-resolution imagery, the AER Respond™ service for wildfire gives insurers a deeper understanding of the wildfire location. The service lets insurers help victims get back on their feet as soon as possible.
AER Respond service for wildfire gives insurance carriers a comprehensive, near-real-time, high-resolution analysis of wildfire damage locations. Catastrophe teams can analyze the damage perimeters in a variety of geospatial platforms to determine where to deploy teams, fine-tune the potential effect on policyholders, and establish loss reserves.
Supporting their carrier partners, restoration professionals can understand the magnitude of properties damaged, plan demand for materials, and begin to pre-position staff and resources before arriving on-site. That makes the rebuilding process easier and faster for everyone involved.
The overview image here highlights the analyses provided during and after the devastating Black Forest wildfire near Colorado Springs. AER Respond for wildfire analysis can deliver updates to clients multiple times a day.
AER analysis began on June 12 and by the morning of June 13, clients received wildfire perimeter files to support their response planning. This rapid response was critical in the case of the Black Forest fire since so many properties we impacted and data from public monitoring sites was not available until much later.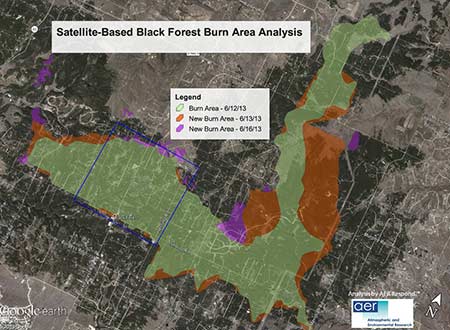 AER Respond satellite-based analysis of the Black Forest, Colorado, fire showing burn area on June 12, 2013, and the expansion of new burn areas on June 13 and June 16. A close-up of region in the blue box is below.
Using satellite change detection, the tool creates the wildfire perimeters for accumulated burn, new burn, and hotspots. Analysis files are delivered to clients as soon as the wildfire damage area is detected via satellite and continues throughout the wildfire event.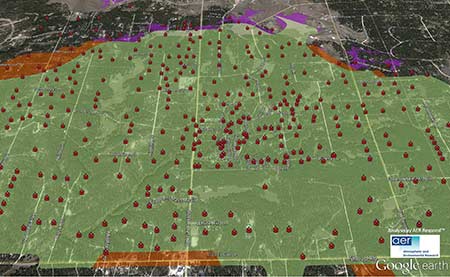 Black Forest, Colorado, wildfire. High-resolution image of western section of affected area from June 16, 2013. The red icons represent damaged structures.
Underwriters Use LOCATION FireLine to Understand Wildfire Risk to Properties
Underwriters analyzing wildfire risk use LOCATION FireLineTM, powered by AER technology, to gain valuable insight about setting moratoriums and other underwriting guidelines. FireLine has thoroughly analyzed the burn area for the Black Forest fire. The summary is available for insurers.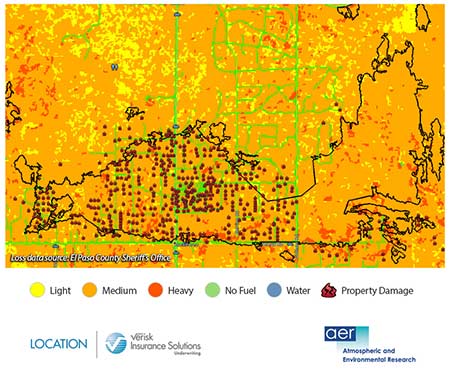 Black Forest fire analysis from LOCATION FireLine, powered by AER technology. Of nearly 500 homes damaged or destroyed, FireLine identified 100 percent as exposed to the wildfire hazard and 52 percent located on sloped terrain.
This will be the second year in a row Colorado has been victim to devastating wildfires. Bad luck may account for that, but more likely, the state has many properties located in high-risk areas. In fact, more than 33 percent of Colorado properties are in moderate- to extreme-risk areas for wildfire, according to the 2013 FireLine State Risk Report for Colorado.
El Paso County, site of the Black Forest fire and the 2012 Waldo Canyon fire, contains the third-highest number of properties at extreme risk for wildfire in the state. While insurers can do little to prevent wildfires, they can manage the risk effectively.
To learn more about how Verisk Analytics is helping insurance professionals and the victims of the Colorado wildfire, visit the AER and Verisk Insurance Solutions - Underwriting websites.