In 2012, we implemented several changes to the ISO ClaimSearch® Claims Inquiry function to improve the end-user experience for claims adjusters and SIU personnel and provide increased efficiency and more precise searching of the database. Here are some of the new enhancements: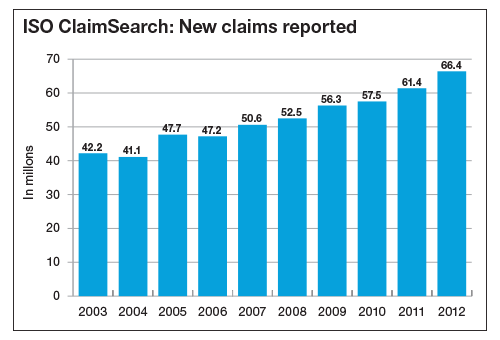 Search Alert — The new feature allows you to use ISO ClaimSearch as a collaborative investigative tool by comparing claim inquiries performed by SIU users against similar SIU inquiries within the prior and subsequent 60 days. The alert service notifies users of matching searches within 24 hours. Last year, we generated more than 360,000 alerts to help connect SIU users who were working on active investigations of the same subjects.
Claims inquiry website changes — We enhanced our graphical user interface (GUI) to improve the user experience, including report viewing and sort capabilities for end users.
Multiple-claim NICB referrals — The new feature allows SIU-level ISO ClaimSearch users to easily refer multiple claims to NICB claims relating to the same case. It expedites referrals for organized fraud cases and eliminates duplicate data entry of individual-claim information for multiple claims.
Boat database — To assist with vessel identification and insurance fraud involving watercraft, ISO worked in collaboration with the NICB to create a new boat database available through Claims Inquiry. The database consists of shipping and assembly records from participating manufacturers, including Brunswick Boat Group, Grady White Boats, Scout Boats, and Forever Resorts; it also includes such brands as Bayliner, Boston Whaler, and Sea Ray.