National Equipment Register Releases 2005 Equipment Theft Report
NEW YORK, Feb. 1, 2006 — Nearly 40 percent of all construction and agricultural equipment theft occurs in just five states, according to a report released today by the National Equipment Register (NER), a database company established to reduce heavy-equipment theft rates and increase recoveries of stolen equipment. Based on more than 5,000 theft reports submitted to NER in 2005, Texas leads all other states in the number of heavy-equipment thefts, followed by California, Florida, Missouri and South Carolina.
NER's study also found that most equipment is stolen from nonowner premises or work-site locations, which are likely to have lower security than owner premises. In 2005, more than 70 percent of stolen equipment was taken from work sites. Less than 30 percent was stolen from insureds' premises, which are typically more secure, fenced storage facilities.
NER based this third annual report of construction and agricultural equipment theft in the U.S. on its database of over 77,000 theft reports and ISO data. The report is the most detailed analysis of construction and farm equipment theft ever published.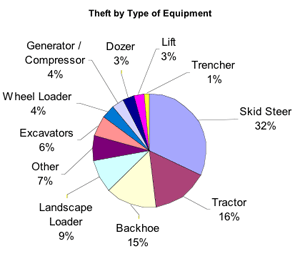 The NER study also found:
five types of equipment account for 78 percent of all losses (see accompanying pie chart)
theft is by far the most frequent risk to construction and agricultural equipment, compared with other risks, such as fire, collision, vandalism and water damage
equipment age determines the likelihood of theft (In contrast to auto theft, newer makes and models, from 2000–2004, represent over 70 percent of thefts reported to NER in 2005.)
the top four brands of equipment reported stolen to NER in 2005 were Caterpillar, Bobcat, John Deere and Kubota
The report also noted a rise in theft reports from states victimized in 2005 by hurricanes, especially Katrina. Since the end of August, there has been a 22 percent increase in thefts from the Gulf region. In the weeks following each hurricane, the thefts occurred primarily in neighboring states. As more equipment moved into the storm-damaged areas, thefts increased there, as well. The type of equipment stolen in those regions reflects typical theft patterns: over 60 percent of the thefts reported were for skid steer loaders, backhoes and small to medium-sized tractors.
"Not surprisingly, the availability and ease with which equipment can be stolen are the two factors that determine theft rates. A great deal needs to be done to improve equipment security as a deterrent against theft and to recover stolen equipment," said David Shillingford, president and chief operating officer of NER.
The NER report includes statistical analyses and advice, such as recommendations to:
focus risk management efforts on high-value equipment that is easily transported
make accurate information available to law enforcement 24 hours a day
help educate law enforcement personnel and buyers of used equipment about the "red flags" to look for, such as the type and timing of transportation, missing decals, unusual paintwork and missing identification plates
The study is available to NER member insurers, their policyholders, law enforcement and the media. E-mail requests for a free copy of the 2005 Equipment Theft Report to NER at info@NERusa.com.
About NER
The National Equipment Register (NER) was established in 2001 to increase the recovery rate of stolen farm and construction equipment by improving the volume, quality and availability of information for law enforcement and buyers of used equipment. NER has developed national databases of equipment ownership (13 million records) and stolen equipment (78,000 records) and provides this information and equipment identification advice to police 24 hours a day. Equipment owners register their equipment with NER to ensure that it can be identified quickly, even before a theft has been reported. Theft is also deterred by placing warning decals on registered equipment. NER is used by most leading equipment insurers, the largest equipment fleets in North America and thousands of police agencies. These processes and relationships have directly resulted in the recovery of over $7 million of stolen equipment. More information about NER is available at www.NERusa.com.
About ISO
ISO is a leading provider of products and services that help measure, manage and reduce risk. ISO provides data, analytics and decision-support solutions to professionals in many fields, including insurance, finance, real estate, health services, government and human resources. Clients use ISO's databases and services to classify and evaluate a variety of risks and detect potential fraud. In the U.S. and around the world, ISO's services help customers protect people, property and financial assets. More information about ISO is available at www.verisk.com/iso.
Contacts:
Giuseppe Barone / Erica Helton
MWW Group (for ISO)
201-507-9500
gbarone@mww.com / ehelton@mww.com
Glen Sider (NER)
212.297.0941
E-mail: gsider@NERusa.com