U.S. Property/Casualty Industry's Net Worth Continues to Decline Despite Rising Profits, ISO Study Shows
JERSEY CITY, N.J., August 26, 2003 — While strong underwriting results propelled the property/casualty insurance industry to profitability in 2002, insurers have not fully recovered from anemic premium growth of the 1990s and September 11 losses, according to a just-published study by Insurance Services Office, Inc. (ISO).
Despite posting the largest premium increase since 1986, the industry's surplus last year fell $4.4 billion, or 1.5 percent, to $285.2 billion from $289.6 billion in the prior year — largely driven by capital losses in the stock market (see graph below.) The study, Insurer Financial Results: 2002, further reveals the decline in industry surplus occurred even as investors paid in a record $17.3 billion in new funds.
In insurance, surplus is the amount by which assets exceed liabilities, similar to net worth in other industries. Insurers' bottom-line pre-tax income or loss is made up of their underwriting results together with their investment income, realized capital gains and other income. Unrealized capital losses on securities are not reflected in investment income, but they do affect surplus.
Premiums grew more than 14 percent — a 16-year high — and growth in losses slowed to less than 3 percent — a five-year low.
At $2.9 billion, net income after taxes improved nearly $10 billion over 2001's $7.0 billion loss — the industry's first. And the industry's rate of return on average net worth rose to 2.2 percent from minus 1.2 percent the year before — only one-fifth the median return on net worth for the Fortune 500, ISO's study shows.
The 78-page study analyzes insurer insolvencies, compares reinsurers' results with those of the insurance industry overall, and examines results by line of business. The study also examines mergers, acquisitions and market concentration; performance of insurance stocks; and industry cash flow.
Insurer Financial Results also looks at the industry's environmental and asbestos (E&A) issues and the impact of catastrophes and E&A on the industry's reported results. The study's long-term analyses take a detailed look at industry expense ratios, leverage ratios (the ratio of premium to surplus and loss reserves to surplus), and the interaction of capital gains and surplus change.
Study highlights reveal:
Written premium growth accelerated to 14.1 percent — the largest increase since 1986.
Growth in loss and loss adjustment expenses slowed to 2.6 percent from 15.3 percent in 2001.
Net income after taxes rose to $2.9 billion — a $9.9 billion positive swing from the $7.0 billion loss in 2001.
The industry's GAAP rate of return "recovered" to 2.2 percent from negative 1.2 percent in 2001.
Net losses on underwriting receded to $30.5 billion from a record $52.6 billion in 2001.
Significant improvement in underwriting cash flow caused the industry's overall operating cash flow to rise to $37.8 billion in 2002 from $15.4 billion in 2001.
Deterioration in investment results offset underwriting improvement, with net investment income declining 2.8 percent and overall capital losses nearly doubling to $21.7 billion from $11.4 billion in 2001.
Surplus fell $4.4 billion to $285.2 billion from $289.6 in 2001, despite a record $17.3 billion in new funds paid in.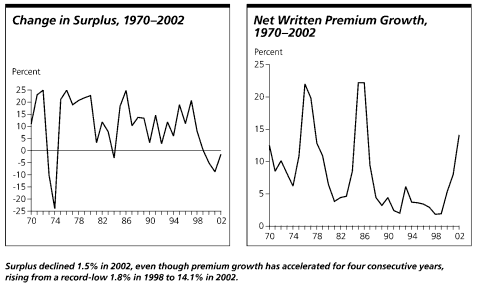 About ISO
ISO is a leading source of information, products and services related to property and liability risk. For a broad spectrum of commercial and personal lines of insurance, ISO provides data, analytical and decision-support products; consulting; data processing; and technical, statistical and actuarial services. ISO field services include on-site rating and underwriting services and the evaluation of community loss-mitigation efforts. ISO's products help customers with sales and prospecting, underwriting, rating and quoting, customer management, policy administration, product development, claims administration and fraud detection. ISO's AIR Worldwide subsidiary provides technologies to assess and manage natural and man-made extreme-event risk. Through its ISO Claims Services, Inc. (iiX unit) and Intellicorp subsidiaries, ISO provides motor vehicle reports and criminal-records information and through its AscendantOne unit delivers rating, quoting and policy-administration solutions. In the United States and around the world, ISO serves insurers, reinsurers, agents, brokers, self-insureds, risk managers, insurance regulators and other government agencies.
Release: Immediate
Contacts:
Giuseppe Barone / Erica Helton
MWW Group (for ISO)
201-507-9500
gbarone@mww.com / ehelton@mww.com