Insurers Believe Insurance Fraud is a Serious Problem Despite Their Companies' Efforts to Fight It
MALVERN, Pa., January 10, 2002 — Insurers of all sizes consider fraud "a serious problem." More than one-third of insurers believe that the amount of fraud has increased over the past three years, in contrast to 6 percent of insurers who believe the amount of fraud has decreased, according to a survey conducted by the Insurance Research Council (IRC) and Insurance Services Office, Inc. (ISO).
More than 40 percent of insurers report spending more to fight fraud during the past three years, in contrast to 3 percent who report spending less. However, insurers rate their efforts in the war on fraud as only moderately effective.
Designed to ascertain the scope and nature of insurance fraud, what insurance companies are doing to combat it, and the support they receive from federal, state and local authorities, the study analyzes survey responses from 353 large, medium, and small insurance companies that represent 73 percent of the property-casualty market. Findings show how insurers perceive the problem of fraud and the corporate resources and strategies their companies are using to fight it.
Survey respondents identified private passenger auto and workers compensation as the two lines of insurance subject to the most fraud. Respondents indicated that medical malpractice, earthquake, and products liability are subject to relatively little fraud.
Survey respondents also indicated that "soft fraud" — exaggeration of otherwise legitimate claims, often committed by individuals acting alone — is far more frequent than "hard fraud" — deliberate attempts to stage losses, often committed by organized rings. Because of the frequency of soft fraud, it adds more to overall claim costs than hard fraud does.
"Insights into the lines most affected by fraud and the nature of the fraud being committed can be extremely valuable to insurers, who must determine what resources to use in the war on fraud and how to allocate those resources," said Elizabeth A. Sprinkel, senior vice president of the IRC. "Information about the tools and techniques being used by others — and their effectiveness — can also help insurers enhance their own efforts to prevent fraud."
All companies in the study actively fight fraud, with 82 percent of survey respondents indicating their companies have formal fraud-fighting programs. While more than two-thirds (68 percent) say their companies' programs address claims fraud "thoroughly," only 25 percent say they address application fraud "thoroughly," and 19 percent say they address premium fraud "thoroughly."
"The relative lack of attention to application and premium fraud presents insurers with an opportunity to do more to hold down the cost of insurance," said Richard Boehning, senior vice president of ISO. " Both insurance companies and their honest policyholders would benefit from increased efforts to stop cheats who obtain policies under false pretenses and pay less than they should for insurance. Such fraudulent behavior shifts costs to honest policyholders."
To detect fraudulent claims, at least four out of five companies use internal fraud recognition training, manual red flags or indicator cards, and external databases. At least two-thirds of companies use internal audits, video or audio tape surveillance, information from agents, and internal database searches. No more than one in four use some of the newer mathematical or analytical techniques, but higher percentages use external databases, with the most popular, ISO ClaimSearch®, used by 74 percent.
"The use of external databases reflects the central role information plays in the war on fraud," commented Boehning. "To determine whether a claimant's loss history suggests the possibility of fraud, an insurer needs access to the complete history, not just the information in its own archives."
Insurers agree on the importance of mobilizing public opinion to fight fraud, but only 48 percent of survey respondents report that their companies have tried to educate their policyholders or the general public about how fraud affects them. Insurers also overwhelmingly agree on the need for tough enforcement of existing laws at the federal, state and local levels. On a list of 30 items that insurers rated in terms of their importance to anti-fraud efforts, 8 of the top 15 relate to the critical nature of support from law enforcement, prosecutors and judges; tough civil and criminal penalties for committing insurance fraud; and statutes that support insurers in the war on fraud. On a scale from 1 (not important) to 5 (very important), 95 percent of respondents rated enforcement of existing penalties either 4 or 5, with 94 percent rating support of prosecutors and judges similarly.
"Insurance companies of all sizes are actively fighting fraud at all levels and in all lines," said Sprinkel. "They wish, however, that they had more support from legislatures, the law enforcement community and the courts in waging war on this social problem that harms both insurers and the people they serve."
"Insurers cannot prosecute criminal claim fraud on their own. Only law enforcement officers and prosecutors can do that," noted Boehning. "Without the right laws, vigorous enforcement, and judges who impose stiff sentences, the deterrents to committing insurance fraud may never be strong enough to shield honest policyholders from the costs imposed by those who cheat the system."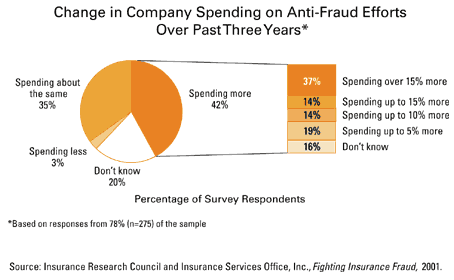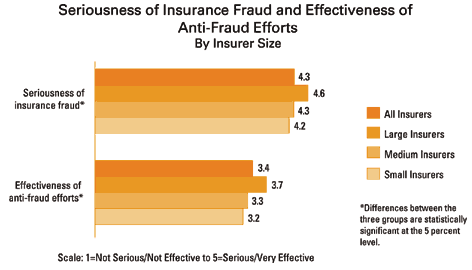 For more detailed information on this study, Fighting Insurance Fraud, its methodology and findings, contact Elizabeth Sprinkel at IRC or Richard Boehning at ISO. Copies of the report cost $75 and can be obtained from IRC or ISO.
Elizabeth A. Sprinkel
Senior Vice President
American Institute for CPCU
718 Providence Road
Malvern, PA 19355
610-644-2212, ext.7568
Fax: (610) 640-5388
E-mail:irc@cpcuiia.org

Richard Boehning
Senior Vice President
Insurance Services Office, Inc.
545 Washington Blvd.
Jersey City, NJ 07310
201-469-3145
Fax: 201-469-4009
E-mail:rboehning@iso.com
NOTE TO EDITORS:The Insurance Research Council (IRC) is a division of the American Institute for CPCU and the Insurance Institute of America. The Institutes are independent, nonprofit organizations dedicated to providing educational programs, professional certification, and research for the property-casualty insurance business. The IRC provides timely and reliable research to all parties involved in public policy issues affecting insurance companies and their customers. The IRC does not lobby or advocate legislative positions. It is supported by leading property-casualty organizations.
Insurance Services Office, Inc. (ISO) is the premier source of information, products and services related to property and liability risk. For a broad spectrum of commercial and personal lines of insurance, ISO provides statistical, actuarial, underwriting and claims information and analyses; consulting and technical services; policy language; information about specific locations; fraud-identification tools; and data processing. In the United States and around the world, ISO serves insurers, reinsurers, agents, brokers, self-insureds, risk managers, and insurance regulators and other government agencies.
Release: Immediate
Contacts:
Giuseppe Barone / Erica Helton
MWW Group (for ISO)
201-507-9500
gbarone@mww.com / ehelton@mww.com
Karen Burger, CPCU (IRC)
Phone: 610-644-2100, ext. 7805
Fax: 610-644-7629
burgerk@cpcuiia.org