ISO MarketWatch Cube - A Powerful New Tool for Analyzing Commercial Insurance Price Changes
JERSEY CITY, NJ, July 13, 2001 — ISO has launched ISO MarketWatchTM Cube, a flexible, fast and easy way to access and analyze the data — in greater detail — contained in ISO MarketWatchTM, a source of commercial insurance price-change information.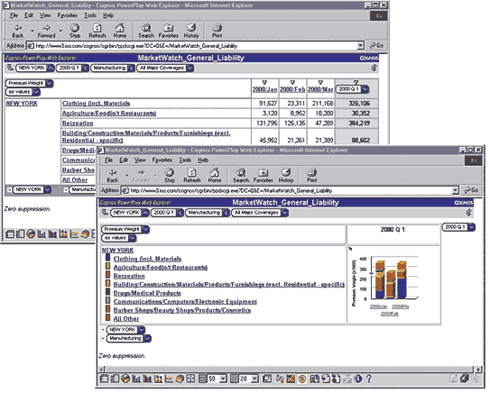 The ISO MarketWatch Cube is available online — without the cost and bother of new software — via ISOnet®, ISO's Internet information service for insurance professionals. Accessed through Cognos PowerPlay, the ISO MarketWatch Cube provides renewal price changes in various levels of detail — major coverage, state, county and class groupings — for specified time periods, either month or quarter. Users can drill down, or up, through the data, create reports, view data graphically and export data into popular spreadsheet software for further analysis.
ISO MarketWatch Cube will initially be available for general liability and will soon be offered for commercial auto, fire and allied lines as well.
Available to insurers, reinsurers, market analysts and others interested in general liability price-change information, ISO MarketWatch can be used for measuring the effect of pricing cycles; confirming market turns in a given line of business or area of the country; planning strategic business expansion; and benchmarking.
ISO is a leading source of information, products and services related to property and liability risk. For a broad spectrum of commercial and personal lines of insurance, ISO provides statistical, actuarial, underwriting and claims information and analyses; consulting and technical services; policy language; information about specific locations; fraud-identification tools; and data processing. In the United States and around the world, ISO serves insurers, reinsurers, agents, brokers, self-insureds, risk managers, and insurance regulators and other government agencies.
Release: Immediate
Contacts:
Giuseppe Barone / Erica Helton
MWW Group (for ISO)
201-507-9500
gbarone@mww.com / ehelton@mww.com