John K. Kramer Joins ISO as Senior Vice President - Marketing
NEW YORK July 14, 1997 — John K. Kramer has joined Insurance Services Office, Inc. (ISO) as senior vice president — marketing. He will be responsible for corporate wide strategic marketing, market research and market development.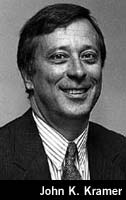 In his latest position, Kramer was a marketing executive at Ernst & Young. Previously, Kramer served as senior vice president — marketing at Dun & Bradstreet Inc. and held senior executive marketing and product-development positions at Citicorp, Sun Diamond Growers of California, General Foods Corp. and the Pillsbury Co.
Kramer holds a bachelor's degree in physics from the University of Pennsylvania and a master's degree in business administration from the Wharton Graduate Division of the University of Pennsylvania. He is a speaker and seminar leader for the American Marketing Association and is the secondary-school recruiting chairman for the University of Pennsylvania.
ISO provides information about property/casualty insurance, including statistical information, actuarial analyses, policy language and related services.
Release: Immediate
Contacts:
Giuseppe Barone / Erica Helton
MWW Group (for ISO)
201-507-9500
gbarone@mww.com / ehelton@mww.com