ISO Executive Promoted to Enhance Address-Specific Underwriting and Risk Information Services
NEW YORK, April 4, 1997 — The Board of Directors of Insurance Services Office, Inc. (ISO) has appointed Patrick McLaughlin senior vice president — risk decision services.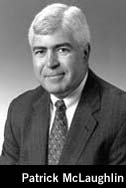 McLaughlin's promotion signals the enhancement of ISO's information services about the hazards that individual locations face in multiple lines of insurance. He is responsible for the performance of ISO's risk-assessment and risk-specific information functions, including site-specific surveys and geographic information systems that pinpoint hazards such as earthquake, wind and crime at a given address. He is also responsible for ISO's evaluation of communities' loss-mitigation activities.
McLaughlin joined ISO's government relations department in 1977 and progressed through a series of responsible positions to assistant vice president — industry relations in 1991. After receiving his Juris Doctor degree, cum laude, from New York Law School in 1991, McLaughlin joined the insurance law practice of LeBoeuf, Lamb, Leiby & MacRae. He rejoined ISO as special assistant to the president in 1993 and was named vice president — risk decision services last year.
McLaughlin received his bachelor of arts degree in government and international studies from the University of Notre Dame.
Release: Immediate
Contacts:
Giuseppe Barone / Erica Helton
MWW Group (for ISO)
201-507-9500
gbarone@mww.com / ehelton@mww.com