George T. Schepp Joins ISO as Vice President - Sales
NEW YORK, June 19, 1997 — George T. Schepp, 39, has joined Insurance Services Office, Inc. (ISO) as vice president — sales. He will be responsible for sales, including ISO's countrywide sales force and tactical marketing.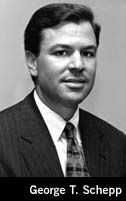 Schepp comes to ISO from Standard & Poor's Corp., where he most recently served as vice president — global sales and service. Previously, he was a sales executive with Merrill Lynch.
A resident of Little Silver, N.J., Schepp received his bachelor's degree in business administration from Mount St. Mary's College in Maryland.
ISO provides information about property/casualty insurance, including statistical information, actuarial analyses, policy language and related services.
Release: Immediate
Contacts:
Giuseppe Barone / Erica Helton
MWW Group (for ISO)
201-507-9500
gbarone@mww.com / ehelton@mww.com